I got the opportunity to cover Blue October during their tour stop in Raleigh NC. They played to a packed venue at the historical Lincoln Theater. Blue October has a fan base that is very passionate about the band, their message and the emotional and personal writings of Justin Furstenfeld (lead singer and founding member). I am one of those fans. The song "Hate Me" off of their 4th studio album called "Foiled" which was released in 2006 was the song that impacted me the most. That album introduced me to the band and I have stayed a fan ever since. The band as whole executes the blending of emotion into their music beautifully. Blue October is a band that has meant so much to so many people and have helped them in ways the band could not even imagine.
The Lincoln Theater has a lot of history to it and I have been covering bands there for a little over 5 years now. I walked to the front stage then through back stage to the back door and was talking to one of the security guards who I have become friendly with over the years. As we were talking a guy walked up to me and asked me about my camera and what lens I was using. We started talking shop and about different gear when I came to the realization (in my head) that I was talking to Ryan Delahoussaye. Ryan is the keyboard, mandolin player and violinist for Blue October. He was very nice and personable and it was great talking camera shop with him. It was an unexpected interaction but solidified to me the kindness the band is known for with their fans, team and other bands they tour with. I then walked up front and into the pit waiting for them to hit the stage. The fans standing behind me were excited and you could see their anticipation building. The lights went dim and the band started to walk out on stage and the crowd went wild. The band sounded great and were very interactive with the fans. Justin talked with fans, told stories and even gave a few high fives to some fans in the front row. They were the complete package for a live performance. Each band member looked to be enjoying themselves and wanted to be there with the fans. The light show was good and had different color variations throughout the show. It was not anything to severe but the venue did not really call for any crazy light show. The concert as a whole was great. The fans sang songs with Justin and would yell out "I love you!", "Your awesome!" and other words of love and encouragement.
One of the cool moments of the night was when he was getting ready to perform the song "Home". Justin has not been shy about his battles with depression and addiction, fans know that very well. His lyrics from past albums showcase that pain but things have changed for Justin and the band the last few years. Justin talked about the song "into the ocean" and how it was a dark time for him when he wrote that song 10 years ago. He talked about the pain, depression and anxiety he had during that time of his life. During him telling this story you could see fans nodding their head as to say "I have been there". He then asked the fans to fast forward ten years later and he now has a beautiful wife and two great kids. He talked about how he is glad he did not jump off that ship and that things do change. It was a great message that he was putting out to his fans about basically battling through those dark times in our lives and overcoming them and to always remember things change.
Blue October is a band who has helped so many people by being open and sharing their music with the world. If you have not had the chance to see Blue October live yet then you are missing out. Make sure you check them out when they are in your area.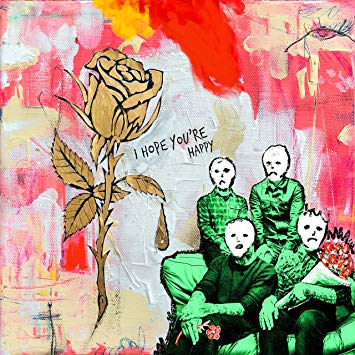 The Set List from the Lincoln Theater Show in Raleigh NC on 04/24/2019
1. Sway
2. I Want It
3. Amnesia
4. Jump Rope
5. King
6. Into The Ocean
7. Home
8. All That We Are
9. Debris
10. Daylight
11. Coal Makes Diamonds
12. Leave It In The Dressing Room (Shake It Up)
13. Things We Do At Night
14. Encore: Further Dive (The House That Dylan Built) (acoustic)
15. 18th Floor Balcony (acoustic)
16. Not Broken Anymore (Acoustic)
17. Hate Me (Acoustic)
18. Your Love Is Like a Car Crash
19. Fear
20. I Hope You're Happy